Cochran's Top-Rated Sidewalk Cleaning Crew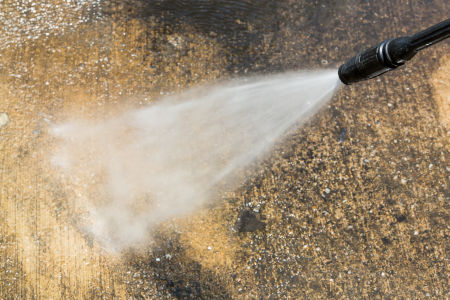 Is it time for you to make an appointment for your sidewalk cleaning? Ask around, and other Cochran homeowners will tell you that the company to trust is Mid-GA Exteriors LLC.
We're known for our impeccable cleaning capabilities and our dedication to customer service excellence. Our name is synonymous with superior service, and that's a reputation we aim to maintain every day. We're more than just another local pressure washing company; we're industry specialists dedicated to customer satisfaction.
Call us for your free estimate today, and let's discuss your sidewalk cleaning and other power washing needs. You're going to love the outcome of the work we do for you; that much is guaranteed. We look forward to partnering with you and putting the sparkle back into the look of your dream home.
Don't Neglect Your Home Or Business's Walkways
When you need professional pressure washing in Cochran for your sidewalk cleaning, you know you can trust Mid-GA Exteriors LLC. From driveway washing to sidewalk cleaning, we do it all! Taking care of areas that receive foot traffic is critical because you want to promote good health and safety and maximize curb appeal.
Our professional sidewalk cleaning service helps to eradicate all of the pollutants that are commonly found on walkways, like:
Algae and Moss
Bacteria and Germs
Mold and Mold Spores
Dirt and Mud
Oil and Chemicals
Regular cleaning for concrete surfaces like driveways and sidewalks also helps act as a method of weed control. If left unchecked, weeds can grow rampant and cause cracks in your concrete surfaces. Weeds and resulting cracks pose a threat to pedestrians.
You also want to keep walkways free from anything slippery that could cause someone to trip and fall. Even damp algae or moss can be a real slip-and-fall hazard.
No Dirt Can Escape From Our Cleaners!
If it's been a while since the last time you had a professional walkway path washing service, that's okay! Our expert cleaners and state-of-the-art equipment can handle all levels of dirt and grime. Don't let the HOA fine you when one call to our team will clean up your sidewalks so they look as good as new.
There's no better time than right now to contact us for professional exterior cleaning. Call us in Cochran today, and schedule your sidewalk cleaning with Mid-GA Exteriors LLC!
Need a Professional Pressure Washer?
Call Mid-GA Exteriors LLC Today!
Contact Us Today
Request Your Quality Cochran Pressure Washing & Soft Washing Services Today!