Thorough Graffiti Removal To Wash Away Vandalism In Cochran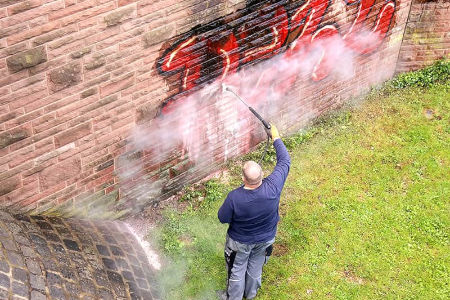 Mid-GA Exteriors LLC has you covered when you need expert graffiti removal in the Cochran area. Unlike street art that generates a positive message in the community. Graffiti on your commercial property can make customers uneasy and can dissuade them from entering your place as a result. Our graffiti removal crew doesn't want your place of business to suffer due to vandalism, which is why our pressure washing services are available at great rates. Contact our team for superior Cochran pressure washing that will keep your storefront looking its best.
Expedient Graffiti Removal
The longer graffiti sits on your exteriors, the more difficult it is to remove. Continued sun exposure bakes the spray paint into these outer surfaces, so you don't want to put off removal services if you can help it! Expedient removal is your best chance at removing graffiti stains completely and reclaiming flawless exterior surfaces.
The Effects Of Graffiti On Your Business
Believe it or not, there are many negative side effects that graffiti has just by appearing on the outside of a commercial building:
Hurts your reputation
Promotes a negative image
Attracts gang activity
Deters potential customers
Don't let graffiti negatively impact your Cochran business! Call the graffiti removal experts at Mid-GA Exteriors LLC and let us make your business sparkle like new again.
Pressure Washing Pros You Can Trust
You can always rely on Mid-GA Exteriors LLC for superior spray paint cleaning and rust removal services. Our pressure washing removes all traces of vandalism and restores your neat and clean exterior in no time. Our dedicated professionals take pride in helping local businesses thrive and stay in good condition over the years. Don't let your business dwindle at the hands of vandals; invest in expert graffiti removal by Mid-GA Exteriors LLC and take back your property's original sheen.
Let Mid-GA Exteriors LLC handle all your graffiti removal work in Cochran and get your business property looking its best again!
Need a Professional Pressure Washer?
Call Mid-GA Exteriors LLC Today!
Contact Us Today
Request Your Quality Cochran Pressure Washing & Soft Washing Services Today!