Fence Washing To Improve The Visual Appeal Of Your Cochran Property's Perimeter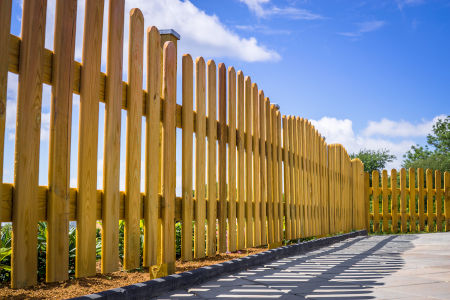 Revitalize your home's curb appeal and outdoor living spaces with fence washing from Cochran's best pressure washing company, Mid-GA Exteriors LLC. Our technicians know the best pressure washing method to remove built-up dirt, mold, and mildew on each fencing material. Wood or vinyl fences require a soft wash to protect the surfaces from damage as well as making sure not to remove paint or stain from the fence.
A soft wash is a two-part process. A mild cleaning solution is applied to the fence followed by a low-pressure stream of water to finish the job. Your fence will look new again after this fence washing method without any damage.
Removing contaminants with fence washing will ensure your fence stands for many years. A moldy fence may look like it needs to be replaced, but a thorough cleaning may be just the thing to rejuvenate it! A fence washing with a powerful sprayer is preferred for prepping for painting or staining your fence, removing the layers before applying new paint or stain. Let our Cochran pressure washing pros tackle this project for you! We are also house washing experts, so make sure to ask about all of our pressure washing services when you call our team members!
Take Advantage Of All Of The Benefits Of Fence Washing
Regular fence washing of course also improves your curb appeal and makes enjoying your yard easier. You won't be worried about replacing the fence, repairing it, or even cleaning it. You can just relax in that hammock or play football with the kids. Let our pros do the dirty work for you!
Benefits of fence washing include:
Improve your outdoor living spaces
Avoid replacing a dingy fence and save money
Extend the life of the fence
Remove allergens
Prep your fence for paint or stain
When it comes to wood and vinyl fence cleaning, the pros at Mid-GA Exteriors LLC are equipped to handle any task. Call our Cochran pros today for your next fence washing service!
Need a Professional Pressure Washer?
Call Mid-GA Exteriors LLC Today!
Contact Us Today
Request Your Quality Cochran Pressure Washing & Soft Washing Services Today!